Contact Info
Bowling Green:

419-354-9190

Toll Free:

866-860-4140

Fax:

419-373-6786

Inspections:

419-354-9190
Location
One Courthouse Sq.
(3rd Floor of Office Bldg)
Bowling Green, OH
43402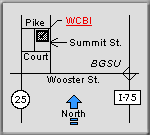 Office Hours
Monday - Friday:
7:30 am - 3:30 pm
Saturday & Sunday:
Closed
Links
You are visitor
since July 31st, 1997
E-Mail us at:


To view a newsletter, click the appropriate link below.

All newsletters are in PDF format
and require the FREE Adobe Reader for viewing.