Contact Info
Bowling Green:
419-354-9190
Toll Free:
866-860-4140
Fax:
419-373-6786
Inspections:
419-354-9190
Location
One Courthouse Sq.


(3rd Floor of Office Bldg)


Bowling Green, OH
43402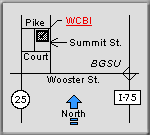 Office Hours
Monday - Friday:
7:30 am - 3:30 pm
Saturday & Sunday:
Closed
Links
You are visitor
since July 31st, 1997
E-Mail us at:


GENERAL INFORMATION FOR OBTAINING PERMITS FOR CONSTRUCTION
GOVERNED BY THE 2019 RESIDENTIAL CODE OF OHIO FOR ONE, TWO & THREE FAMILY DWELLINGS
The Wood County Building Inspection Department is located on the third floor of the County Office Building adjacent to the Courthouse. The office hours are Monday through Friday.
Summer Hours: 7:30 am to 3:30 pm
Winter Hours: 8:00 am to 4:00 pm
Phone: (419) 354-9190, Fax:(419) 373-6786.
E-mail: buildinginspection@woodcountyohio.gov The mailing address is:
Wood County Building Inspection
One Courthouse Square
Bowling Green, OH 43402
In order to obtain a Building, Plumbing, Heating or Electrical Permit from our office, the applicant will need to do the following:
For all permits: Fill out the appropriate application and pay the calculated fee.


For Building Permits for new construction, additions and/or alterations:



Two sets of drawings, permit application and fee shall be submitted to the Department. For smaller projects, such as minor additions, garages, small storage structures or pole buildings, drawings are available from our office or our internet site for the applicant to fill in and submit. When approved, both sets of drawings will be stamped and signed and the permit will be issued by the Department. One set of drawings will be retained by the Department and the second shall be maintained at the construction site by the permit applicant. Only complete plans, in accordance with the Residential Code of Ohio for One, Two & Three Family Dwellings requirements, will be reviewed. It shall be the responsibility of the permit applicant to check the plan review status following submission of the drawings for approval.



Each dwelling shall be designed in accordance with the requirements of the Residential Code of Ohio for One, Two & Three Family Dwellings. Copies of the Residential Code are available at our office for review purposes only.


All girders, columns, headers and beams non-uniformly loaded shall be substantiated either by stamp or seal (Registered Engineer or Architect) or by submission of established engineering calculations. Uniformly loaded members shall be engineered or may be determined by the appropriate tables in the Residential Code of Ohio for One, Two & Three Family Dwellings.


All footings and/or pads not bearing on virgin soil (undisturbed soil condition) shall be designed and substantiated either by stamp or seal (Registered Engineer or Architect).


In addition to the above, drawings shall be to scale and shall show the size, span, material and direction of run of all joists and rafters.



No work is to commence at the job site until the building permits have been obtained.


Revisions to approved plans shall be by submission of revised drawings for approval as outlined in item 1 above.


Plans will be reviewed in the order in which they are received and no plans will be "walked through" at the time of the application.


Prior to the issuance of the Building Permit:



A copy of the Zoning Permit shall be submitted for our file.


If a Sanitary Sewer Permit or Septic Tank Permit has been required, supply our office with the permit number.


If you currently have an existing septic system and/or well contact the Wood County Health Department concerning the Property Improvement Program (P.I.P.). If a permit is required, supply our office with the permit number.


If a Water Tap Permit is required from "Northwestern Water & Sewer District" (NWWSD), supply our office with the approved permit number.


Supply our office with the Wood County Engineers SWIP permit if applicable.


Property owners or contractors may apply for the above permits, which can be obtained by mail by including a stamped, self-addressed envelope with the application and fee. However, no drawings will be returned via mail from our office due to the volume and size of the plans we receive. Contractors applying for electrical, plumbing, or HVAC permits are required to have a valid State of Ohio license for that specific trade. Property owners are exempt from this requirement providing all work is personally performed by himself, and the premises is occupied or to be occupied by himself.
Work started without having applied for required permits will be subject to double the original fee.