Contact Info
Bowling Green:

419-354-9190

Toll Free:

866-860-4140

Fax:

419-373-6786

Inspections:

419-354-9190
Location
One Courthouse Sq.


(3rd Floor of Office Bldg)


Bowling Green, OH
43402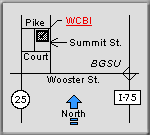 Office Hours
Monday - Friday:
7:30 am - 3:30 pm
Saturday & Sunday:
Closed
Links
You are visitor
since July 31st, 1997
E-Mail us at:


Permit / Inspection Inquiry
To access our permit software, click on the link below to access www.citizenserve.com. Once there, locate the "customer login" area and log in as "woodview" (no quotes) with a password of "woodview123" (no quotes). This will take you to the opening page.
To locate information, use the quick find box at the top right-hand corner of the page, insert your job number, permit number or address, and your file/project should be displayed. Click on the permit number to move forward to research that job file. After you're in the file, use the tabs on the top bar to navigate through the program.
If you need help using the software please contact our office and we will provide you with further assistance. All online construction documents shall be uploaded through the online contractor portal (link below).